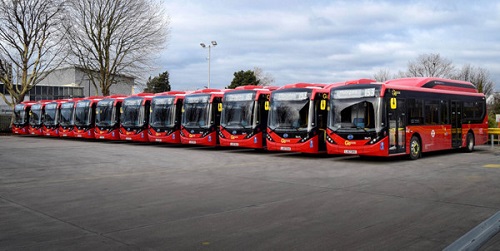 Despite high investment cost, electric buses are reaching huge growth rates in China, and now the electric buses are also coming to Europe and the U.S.
Photo: Chinese BYD and Dutch VDL Bus and Coach have made a partnership on supplying these electric buses for London in April 2018. (Photo: BYD)
The upfront cost of electric buses is between two and four times that of a conventional diesel bus. Electric buses need a new infrastructure to support consistent charging. And their batteries need to be replaced at least once during their lifetime, which can be costly. Battery replacement is nearly half of a vehicle's price, according to World Resources Institute.
Additionally, the introduction of electrical buses has been challenged by breakdowns due to technological immaturity.
But high subventions, and low maintenance and energy costs make the Chinese electric bus market move very fast ahead.
Europe has started slowly investing in electrical buses a few years ago, while some major cities in the U.S. are beginning to deploy electric buses and deciding on major investments.
Why is China the leader?
According to Curbed, China reached 385,000 electric buses during 2017.
In 2016 the stock of electric buses in China was 343,000, including around 300,000 battery-electric vehicles, according to the ZeEUS e-Bus Report #2 from October 2017. The remaining buses were plug-in-hybrid, trolley buses and fuel cell buses.
According to the e-Bus Report, the central government of China provided manufacturers of electric buses with subsidies, and tax benefits as well as grants of $81,000 per electric bus purchase.
This support from the central government was in some cases supplemented by local support. In the case of the city of Shenzen, a 12 meters e-bus received a $150,000 subsidy before 2016, according to a report from World Resources Institute. This was more than half of the vehicle's price.
According to World Resources Institute, the city of Shenzen used a holistic strategy to reach a total number of more than 16.000 electric buses by 2017. The entire bus fleet of Shenzen is now electrified.
Apart from the subsidies, some bus operators leased the vehicles from the manufactures, thus saving the operators from upfront investments and debt financing.
Due to shorter driving ranges, Chinese cities usually purchase 100 percent more electric buses than diesel buses. But Shenzen almost solved this problem. The city adopted a type of e-bus with a range of 250 kilometers, almost sustaining a full day of operation. Bus operators collaborated with charging infrastructure providers to furnish charging facilities to most of the bus routes. The charging facilities are open to private cars, which improves the financial performance of the charging infrastructure.
Charging of the buses is being coordinated with the operation schedule. Buses are being fully charged at night when electricity prices are low, and recharging happens at terminals during off-peak hours.
Additionally, manufacturers have provided the bus operators with life-time warranties for vehicles and batteries, to prevent bus operators from suffering from the cost of replacement of batteries and breakdowns due to immaturity of the technology.
Europe expects high growth in electric buses
Compared to China, electric buses have had a slow start in Europe. In 2016, Europe had around 1,200 electric buses, according to the ZeEUS eBus report #2. In European cities with more than 100,000 inhabitants there are around 70,000 urban buses in Europe.
The ZeEUS project and the International Union of Public Transport (UITP) have explored the perspectives of making urban bus transport more sustainable. They expect that the number of electric buses for urban transport will increase quite dramatically.
By 2020 the number of electric buses is expected to be 19 percent, increasing to 52 percent by 2030. The number of diesel buses will decrease accordingly, while natural gas/biogas buses will remain at about 15-17 percent.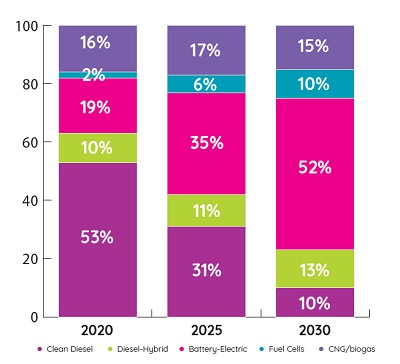 Urban bus market development in Europe. Source: ZeEUS eBus Report #2
Currently, the major European markets for e-buses are the United Kingdom, the Netherlands, France and Poland. French public transport company, RATP, is planning to replace 80 percent of it's existing fleet of 4,000 buses with e-buses by 2025.
Los Angeles deciding on major investments
According to the ZeEUS eBus Report, the United States of America had around 200 e-buses in 2016, but the numbers are growing now.
20th of April 2018, U.S. electric bus manufacturer Proterra announced that Washington DC had deployed 14 battery electric buses.
Proterra also announced in December 2017 that they are going to supply 25 electric buses to Los Angeles in 2019. These new electric buses will replace natural gas buses.
Los Angeles Department of Transportation has decided on a $36.1 million grant to purchase 112 electric buses, the goal being a fully electric bus fleet by 2030. The bus fleet of Los Angeles is counting a total of 359 vehicles.
China is leading, but it looks like cities in both Europe and U.S. want to try catching up.
Curbed: How a Chinese city turned all its 16,000 buses electric
World Resources Institute: How did Shenzen, China Build World's Largest Electric Bus Fleet