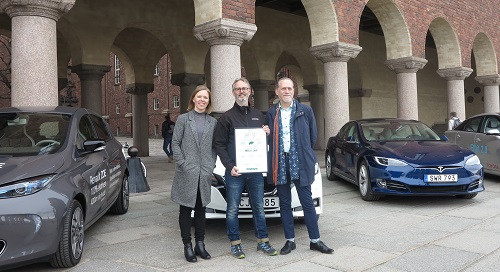 40 car models were nominated for the best sustainable car award in Sweden this spring. Two awards were announced for respectively private car owners and cars for companies. Electric vehicle Nissan Leaf won both awards.
Photo: Patrik Loberg from Nissan Sweden receives the diploma from Johanna Grant (Grona Bilister/Green Car Owners' Association), and Daniel Helldén from Stockholm citizens advisory board on traffic. Photographer: Martin Prieto Beaulieu.
For more than 20 years the Swedish organization Gröna Bilister (Green Car Drivers) has engaged a jury of experts to nominate and award the most environmentally friendly and safe cars on the market. The 2018 awards were announced 3rd May.
Among the 40 cars, there were 7 electric vehicles, 2 hydrogen fuel cell cars, 13 plug-in-hybrids, 17 natural gas vehicles and 1 ethanol car.
A clear winner
This year there was no doubt in the jury. Nissan Leaf was a clear winner with 38 points in the class of cars for private car owners. Renault Zoe (electric) came in second with 28 points and Hyundai Ioniq (electric) was third with 14 points.
In the class of cars for companies Nissan Leaf had 47 points, Tesla Model S (electricity) 19 points, Renault Zoe (electricity) 14 points and Toyota Prius (plug-in-hybrid) 14 points.
Environmental impact, price label and technical solutions
Here's why the jury selected Nissan Leaf as a winner:
"Nissan Leaf is the world's best selling electric vehicle in a new configuration with a longer range of around 370 kilometers, higher safety, low energy consumption, an attractive price label, and generous guaranties. Nissan also offers private leasing, and you may use Nissan Leaf for storing electricity providing the use of the correct charging system. Nissan Leaf can park itself and is to a certain degree self-steering in highways if the driver wants it. Good environmentally friendly choice, good price and good technical drive. This is the explanation of the clear victory in both classes, and a future positive development is to be expected."
Still sustainability issues for all types of cars
But all cars have some sustainability issues, even the best electric vehicles, said spokesperson Johanna Grant from the green car owners' association.
For the first time this year, the climate impact of the manufacturing of the vehicles was included in the judgement of the cars.
The climate impact is estimated to be more critical for electric vehicles than for other vehicles, due to the energy intensive manufacturing of large batteries. There is good reason to hope that this impact will be lowered with the further maturing of the electric vehicles industry, the green car association indicated.
But there are also some social problems, especially related to child labor in mining of cobalt for batteries. Also in this case there is hope for improvement, according to the association.
"But it is necessary that we put pressure on the industry to see our hopes of more sustainable vehicles become reality," said Johanna Grant.
Award to Toyota for best life cycle analysis
Both climate impact of manufacturing and scrapping was evaluated from literature studies and from life cycle analysis provided by the industry.
Toyota provided an exhaustive life cycle analysis on the Toyota Mirai hydrogen fuel cell car and was awarded a special price for this.
The complete list of the nominated vehicles:
Electric vehicles
Hyundai Ioniq electric
Nissan Leaf
Renault Zoe
Tesla Model S 75D/100D (4WD)
Tesla Model X 75D/100D (4WD)
Volkswagen e-Golf
Volkswagen e-up!
Hydrogen cars:
Hyundai ix35 Fuel Cell
Toyota Mirai
Ethanol cars
Volkswagen Golf TSI 125 MultiFuel
Plug-in-hybrid cars
Audi A3 e-tron
Audi Q7 e-tron (4WD)
BMW 530e iPerformance
Hyundai Ioniq GDI plug-in
Kia Niro Plug-In Hybrid
Kia Optima Plug-In Hybrid
Land Rover Range Rover P400e (4WD)
Mitsubishi Outlander PHEV (4WD)
Toyota Prius Plug-in HSD
Volkswagen Golf GTE
Volkswagen Passat GTE
Volvo S90/V90 T8 Twin Engine (4WD)
Volvo V60 D5/D6 Twin Engine (4WD)
Natural gas vehicles (also biomethane/renewable natural gas)
Audi A3 TFSI g-tron
Audi A4 TFSI g-tron
Audi A5 TFSI g-tron
Ford Focus EcoBoost Biogas
Opel Astra CNG ECOTEC
Opel Zafira CNG Turbo
SEAT Ibiza TGI CNG
SEAT Leon TGI CNG
SEAT Mii Ecofuel CNG
Skoda Octavia G-TEC
Suzuki Ignis AllGrip 4x4 CNG (4WD)
Suzuki S-Cross AllGrip 4x4 CNG (4WD)
Suzuki Vitara S AllGrip 4x4 CNG (4WD)
Volkswagen Golf TGI BlueMotion
Volkswagen Polo TGI BlueMotion
Volkswagen eco-up!
Volvo V60 Classic T5 Bi-Fuel
Go to the Grona Bilister website to find the report on the vehicles (In Swedish)